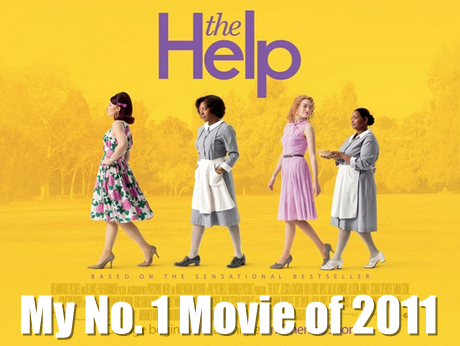 AN IMPORTANT UPDATE: I've been wanting to do this since the very day I posted my top 20 of 2011, because truth to be told, I wasn't completely honest with myself (hence with all of you) when I was arranging the list, but didn't have the guts to admit it. Here's the thing - On Mar 9 (My Birthday) 2012, I posted this top 10, crowning Benny Chan's "Shaolin" as my favorite movie of the past year, but only an hour after that I realized that my heart was disagreeing with me. It was saying to me (and still does): Admit it, the 2011 movie you loved the most was "The Help", not "Shaolin"... And it was right. Completely right. I've seen "The Help" three times now, and each time I saw it, my love for it got bigger and bigger. I just love everything about this movie - it's touching, it's funny, it's engaging, it's sad, it's amusing, it's inspiring, it's witty... it's a true roller coaster of emotions. Also, each and every single one of the cast members were completely brilliant in their roles, especially Octavia Spencer as Minnie. She was and still is my favorite character in the movie and one of my favorite characters of all time, and I couldn't be happier she got the Oscar. She totally deserves it! Moreover, it was a technically marvellous film. Taylor's direction was effortless, smooth, silky and skillful, the production design was slick and wonderfully authentic, the retro-ish cinematography was stunning, and the costumes were just beautiful. Don't get me wrong, I still LOVE "Shaolin" and it's right up there with "The Help", but the latter has that extra special something no other movie in 2011 had. I hope you all understand and can forgive me this stupid 'mistake' I made. I'm always 100% honest in my reviews, so I guess something was wrong with me back on that day. Click THIS LINK to see what the updated list looks like after
Tate Taylor's amazing movie "
The Help" took the top spot.
If any of you want to leave a comment, do it on the

original post

by clicking the highlighted link.